There's two outs, Mount Carmel trails their longstanding nemesis Teutopolis 3-2 in the bottom of the seventh.
Last year's 3-0 Sectional Semifinal loss to the Wooden Shoes remains fresh in the back of the minds of the Lady Aces. Mount Carmel Head Softball Coach Kyle Buss made a point to remind his girls of the result pregame and how they had an immense opportunity to exact revenge.
Hopes are dwindling, but with junior Faith Fuller up to bat and sophomore Kami Pearson on third and senior Addie Drone on second, the Lady Aces have a chance to seize the moment.
Fuller is no stranger to these moments. Just last year Fuller hammered a walk-off homer to hand the program its first Region Title in 15 years. Now she has the opportunity to add to the hardware, and give the program a Sectional Final Title.
After a hard fought battle, Fuller sits with a 2-2 count — and just like last year, she comes through.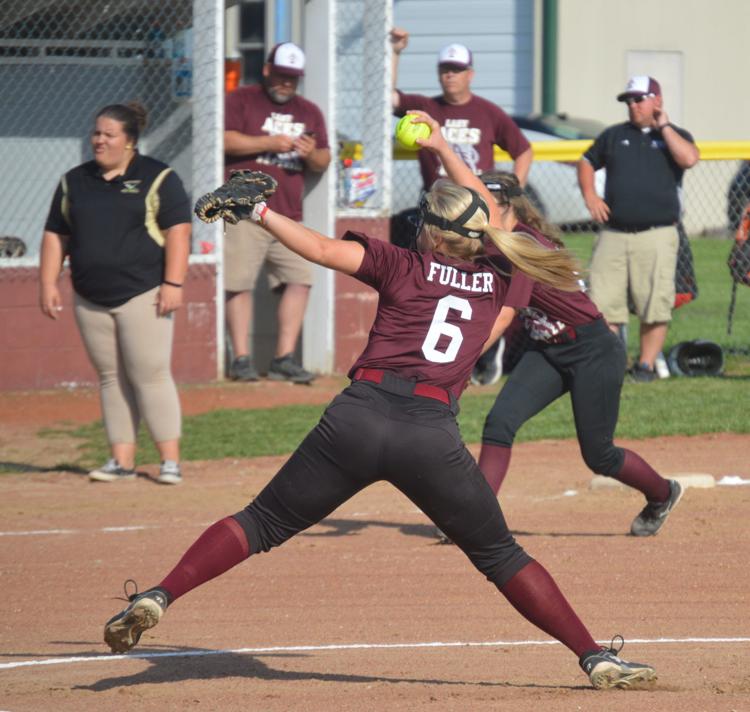 Fuller slashes a two-RBI double off the left-center field wall, a closing Teutopolis outfielder can't range to the ball in time. Drone and Pearson. The Lady Aces' dugout storms the diamond in a jubilant celebration following the 4-3 victory, securing their place in a Super Sectional.
For Buss, he joins his brother Tyler as members of the Buss family who've toppled the Wooden Shoes. For the Lady Ace seniors, they have another incredible lasting memory to look back on and speak volumes of their dedication to the program.
Now, the season certainly wouldn't have definitively ended like this, everyone knows there's a variety of outcomes. They could have been upset in the Region Final, they could have succumbed to Teutopolis or another adversary. But for this team, with their overwhelming talent and immense experience, it really did feel as if they were primed for greatness.
Why such high expectations? Well, the team returned everyone from last year's Region Title team — a rare feat for high school programs to achieve.
"Last year we didn't have any seniors so we literally brought the whole team back from a team that won the Regional Championship," Buss said. "We had very high expectations of winning a Regional and going and winning a Sectional this year."
Some of their returners were highly accomplished as well. Fuller, the team's ace, pitched the vast majority of the team's crucial innings last season and provided some aforementioned heroics with her bat. Pearson earned All-Big Eight Conference honors as a freshman, the first freshman to earn such a distinguishment in program history. The list goes on and on, with strong contributors top to bottom.
For Buss, he really grew fond of the senior group, comprised by Drone, Alli Hedge, Lexi Ballard and Libby Schneider, who he said provided considerable leadership, even last year as juniors.
"Those seniors just make it so easy for a coach because I tell those four what we're doing today and they kind of lead practices, lead workouts and stuff like that. They make it easy on me as a coach in just knowing what I expect from them and the team, then they go out and lead by example. Addie Drone, Lexi Ballard, Libby Schneider, Ally Hedge, those four girls played all four years. But just a great group of girls. A great group on the field, you can tell by them winning a Region Championship last year, but just a great group of girls to be around and easy to coach for sure."
With the perfect mesh of leadership and emerging young talent, that made it all the more bitter when word came that the IHSA had cancelled the spring sporting slate.
Behind closed doors Buss, like many of us who had been monitoring the situation, grew to the realization that this would soon be an inevitability. Still, when the news broke it was a gut check nonetheless.
"Week by week we just lost a little more hope, then by the time they came out and made it official, I think a lot of people already figured it was going to go," Buss recalled. "Just devastated for those girls, especially the seniors. Not being able to play your senior year — I'm just sick to my stomach not being able to watch them play their last year. With it being the spring, you're not just missing your last year of softball, you're missing your last bit of high school. Even bus rides, walking through the hallways, you're missing those last weeks and it just stinks for those girls. I wish this could have ended a little differently for them."
Though they missed many of those memories, such as postgame bus rides, the thrills of an exhilarating win, or just spending time as a unit. There could be one final, lasting memory for the girls — particularly the seniors — if all goes according to plan.
Buss pitched an idea of hosting a Senior Day for the girls, whether it be in late-July or early-August, it'd give them the opportunity for an offical send off. Furthermore, Buss mentioned the inclusion of a potential scrimmage, so they could take the field with their teammates one last time.
"I know Senior Day's an important day for people, just to have your day and recognize those girls in some sort of way," Buss said.
"That's some of the feedback I've gotten from some of the younger girls too. Yeah, they were upset they were missing their season, but a lot of them were talking about missing those seniors. They were such great leaders that a lot of the younger girls really looked up to them. We'll really miss those girls going forward."
Given the unprecedented circumstances, nothing's a perfect solution, but it's a tremendous idea to honor this group, a group who seemed destined for greatness.
Though the program will miss the leadership provided by the four seniors, Lady Aces softball isn't expected to miss a beat.
The program's mass influx of talent is expected to continue next year, and into the years following, with some immensely talented and deep classes at the high school over the next few years.
Next year — a year in which the word Coronavirus will hopefully be an afterthought — will see girls such as Fuller and Sierra Hannah step up as the new veteran leaders, the guiding presences for the younger girls on the team.
Rest assured, the future is bright in Mount Carmel.
"We'll be relatively young, but that big sophomore group will be juniors so we'll look to them to kind of jump into that leadership role along with Faith and Sierra. There was a group of 10, 11 freshmen this year and I know there'll be another 11 or 12 freshmen next year. We're going to reload with a bunch of more young talent. We'll have just two seniors but should have close to 30-35 freshmen, sophomores and juniors. The program is going to just keep trying to reload. It stinks this season was taken away, but I do think there's some great seasons ahead for Lady Aces softball."