MOUNT CARMEL — After guiding Mount Carmel to its first 20-win season since Tyra Buss, you knew a Lady Ace was likely to receive some postseason recognition.
Well, that came on Friday, as junior Maya Smith was named as a special mention to the IHSA 2A Basketball Coaches Association All-State teams.
Smith, who averaged 14.7 points and 3.5 assists per game for the Lady Aces this season, served as floor general for the Lady Aces and guided the team to a 22-11 season.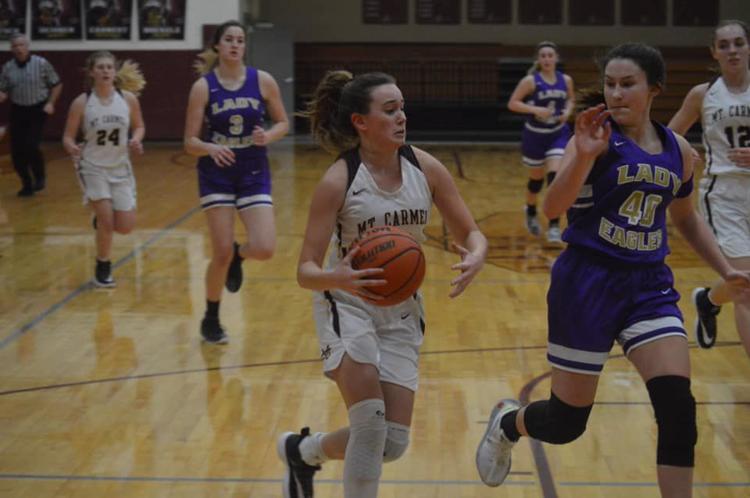 "Maya is very deserving of this honor. As our point guard, she knows where the ball needs to be," said Mount Carmel coach Tim Willis. "She finds the hot shooter and understands when to go make a play. With her ability to score inside and outside, it was really her understanding of the position that has allowed her to reach the next level. The best part is we get another year of Maya, to go along with her talented teammates. It should make for an exciting season at the Hilltop."
Smith was excellent against some of the top competition, including 18 points in Mount Carmel's 59-50 IHSA 2A Regional Semifinal loss to Pana. Arguably her best game of the season came in a nail-biting 52-42 loss to Richland County in which Smith netted 24 points, while going against Olney's Anna Blank, who was an Associated Press IHSA 3A All-State Honorable Mention.
Accompanied by a stellar junior class, Smith is one of three starters returning to Mount Carmel as seniors in what could be a special 2020-2021 for the Lady Aces.
With Smith, Rylie Webb and Allie McPherson returning as seasoned veterans, the sky's the limit for next year's group.