NEWTON — For around 21 minutes Mount Carmel played some of its best basketball of the season, including a second quarter scoring surge and defensive lock down that rivaled even Teutopolis.
Unfortunately the Lady Aces encountered a recurring problem — getting too sped up — otherwise they would have likely earned a berth Thursday night's regional championship game.
Despite a daunting second-half deficit, Pana showed a sense of urgency and dictated the tempo to fluster the Lady Aces, causing enough havoc to rally for a 59-50 victory in the IHSA 2A Girls Basketball Newton Regional Semifinal.
Both teams traded blows early on, with Mount Carmel (22-10) trailing just 13-11 with 30 seconds remaining in the first quarter. But when Mount Carmel Coach Tim Willis tried to get a quick spot rest for junior Maya Smith, Pana took advantage. With a high-pressure full-court press, the Lady Panthers forced Mount Carmel to cough it up a couple times in the waning seconds and converted, taking a 17-11 lead after one quarter of action.
Once Smith checked back in and the Lady Aces got back into a rhythm however, they really settled and chipped away at the deficit.
Following four straight points by Smith, Willis had his team shift to a zone — which originally seemed to be a bad decision as Pana (25-7) splashed a 3-pointer over top the zone on the first possession, but following that make, it really stifled the Lady Panthers for the remainder of the quarter.
Junior Rylie Webb started to make her impact felt defensively by being disruptive in passing lanes and starting a few Mount Carmel fast breaks. Webb converted a bucket through three defenders, but followed that with a pair of swipe and breaks, which she couldn't convert but both times were followed by senior Alli Kell for the offensive board and put back.
That stretch for Kell was arguably the best basketball she's played all season. She was doing it all on the glass for Mount Carmel.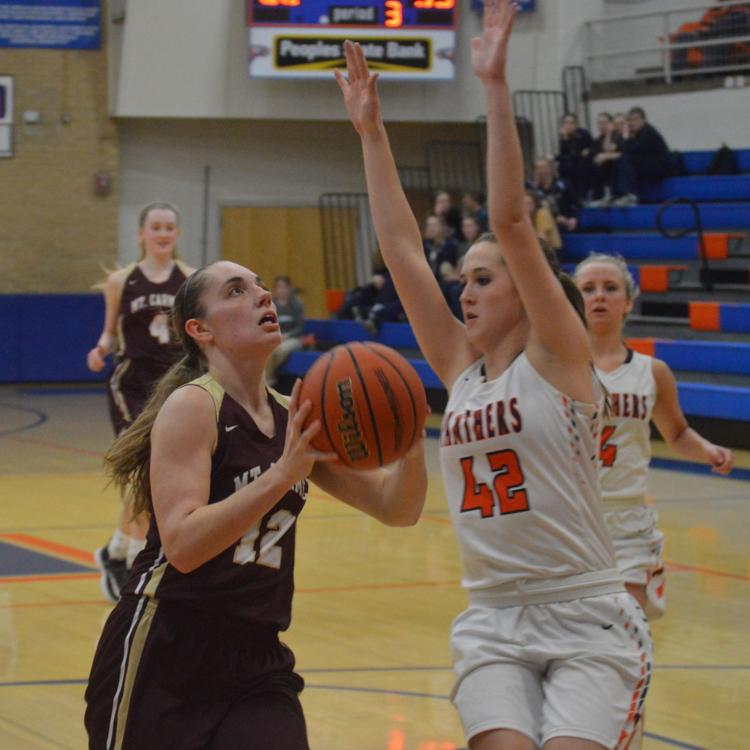 "[Alli] played well down the stretch for us," Willis spoke of Kell. "She had another good game tonight, had a lot of rebounds, did the same thing [on Monday night]."
Suddenly what was once a six-point deficit had swung to six-point advantage in Mount Carmel's favor, leaving Pana shell shocked as to what had just unfolded and their best player, sophomore Jillian Hamilton riddled with foul trouble.
Mount Carmel entered halftime ahead 28-22 following the 17-5 second quarter run, surely feeling good about their position heading into the second half.
Pana's gameplan out of the break was pretty simple. Pressure the ball, disrupt passing lanes, try to dictate the tempo to an up-tempo style. With a deficit in high school basketball, that was their only chance of a comeback.
Mount Carmel did their best to prevent the Lady Panthers from that goal early in the half, and had increased their lead to 39-30 with three minutes remaining in the third quarter.
"They were up six, eight points at one point then we went on that nice run," Willis spoke of the game to that point. "We had the momentum and got back into it. We fought for that, got into the third quarter and extended that a little bit, then all of the sudden we just slowed down."
Despite the deficit widening, Pana Coach Jason Storm likened the tempo his team was imposing. With such an intense pace, it was only a matter of time before Pana made their run.
Mount Carmel started to make some lazy passes and allowed the Lady Panthers to bait them into forcing passes for transition run outs. Just as Mount Carmel flipped the script in the second quarter, Pana had suddenly done the same, ending the quarter on a 13-4 run in the final three minutes.
With both teams tied at 43-43 entering the fourth, it was going to come down to whoever was playing better at that time. Unfortunately for the Lady Aces, momentum was significantly swayed in Pana's favor.
Smith would knock down a pair of free throws to bring her team within striking distance at 49-48, but due to their sloppy passing in the second half, they'd score just two points after that point.
In total the Lady Aces turned it over seven times in the final frame, one a charge that fouled out Webb with 3:07 remaining in the game — much to Willis' dismay.
"The press hasn't given us many problems all year long, but all of the sudden we got antsy, passes got to be a little longer, a little slower, didn't have the same sense of urgency as we did in the first half," Willis said. "We just didn't get over that hump. Then once a team gets on a roll, you know how that is."
After that, Pana coasted, securing the come from behind victory and gashing the postseason aspirations of the Lady Aces and the fans who made the hour trip from Mount Carmel.
"This one stings, they all sting, but to have another shot at Ttown — which is what we wanted," Willis said. "We knew Pana was good."
Smith ended as Mount Carmel's top scorer with 18 points, followed by Webb with 15. Kell scored seven points in her final performance, and senior Kassidy Drone added five points. Pana freshman Anna Beyers led the Lady Panthers with a game-high 18 points.
"Like we told our kids, make sure we celebrate on our way home," Willis spoke of sending off his seniors. "This bus ride home is the last time we'll have with our seniors and we appreciate them and what they've done for our program."
Though they didn't get their desired rematch with Teutopolis, Mount Carmel will return a loaded roster next season with high expectations and a senior-laden cast.
Willis says he hopes he'll be back to coach next year's group, though added that such a decision was in the hands of the school district.
"Hopefully I'll be back and we'll go from there."
Mount Carmel ends the season with a 22-10 record. Pana will face Teutopolis in Thursday night's Regional Final.
P — 17 5 21 16 — 59
MC — 11 17 15 7 — 50
Lady Ace scorers: Smith 5 8 18, Webb 6 2 15, Kell 3 1 7, Drone 2 0 5, McPherson 1 1 3, Riggs 1 0 2.