MOUNT CARMEL — Recording a no-hitter is a remarkable accomplishment at any level in softball or baseball, nonetheless two in one day. Wabash Mission pulled off the unthinkable with two of their teams recording no-hitters in their day one action at the Great Lakes Nationals in Southern Indiana on Wednesday.
Let's break down each team's results from day one, and then delve into the no-nos.
Wabash Mission 11
It was a rough day one for Wabash Mission 11, the 8U group.
They went 0-2 on the day, falling to Team Indiana Impact and the Indiana Magic in their two contests.
At their level however, it's really about improving and familiarizing yourself with the game. There'll be brighter days ahead in their softball careers.
Farryn King was responsible for the lone run, and was batted in by TaeLynn Wade, who recorded their lone RBI on the day. TaeLynn also caught a pop in the second inning of the game. Addison Carmickel went 4-for-4 hitting. King went 3-for-3 hitting.
Wabash Mission 09
Game one: 3-2 victory over South Gibson Heat.
Wabash Mission 09 entered as perhaps the most touted of the Mission groups, ranking No. 18 in the USSSA National Softball rankings in the 10U C-class division.
For their first game of the day against the South Gibson Heat however, they were given all they could handle.
The Heat scored first, plating a run after a pair of wild pitches advanced the runner onto third.
Mission quickly rebounded, getting a bases loaded opportunity in the bottom half of the first. They managed to score a couple runs, one on an RBI walk by Journey Loudermilk, the other courtesy of a peculiar miscommunication between the umps — who had thought Brynlie Mounts had walked, though it should have been a full count. By the time they realized, Lyla Keepes swiped home and the run remained.
Keepes continued to battle on the mound and despite running into a couple jams, kept the South Gibson Heat at bay.
They went up for good after an RBI double by Riley Hershey in the bottom of the second. Keepes picked up the win, allowing just two hits and two walks while fanning six batters.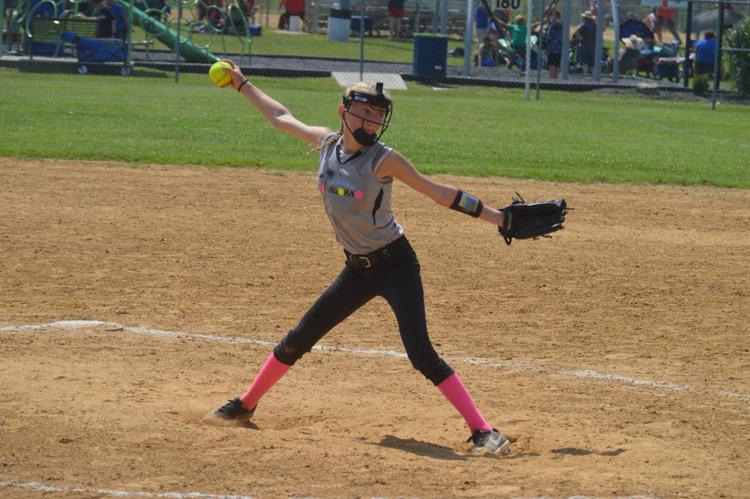 Game two: 16-2 victory over Aftershock (KY).
The first no-hitter of the day came in this game, a lopsided victory in favor of Mission, one in which their bats exploded and Quincy Keepes was dominant on the mound.
Keepes allowed four walks, while striking out four batters, but Aftershock hitters struggled to put the ball in play against her.
She also led their hitting charge, going 2-for-3 with a double and four RBIs. Other notable bats included Journey Loudermilk's 1-for-3 line with three RBIs, Mounts' three RBIs, Hershey and Leah Lewis each with a pair of RBIs, as well as Kinley Harris and Lyla Keepes with an RBI each.
With a 2-0 day one in hand, they'll continue their ascent at Boonville, Ind. on Thursday at 6:30 p.m. against KP Fire 09.
Wabash Mission 07
Game one: 16-0 victory over Legacy 08.
Mission 07 had perhaps as good of a debut as anyone in the entire tournament. They thoroughly dominated from start to finish in their opener, defeating Legacy 08 16-0, and recording the other no-hitter of the day — this one a combined no-hitter.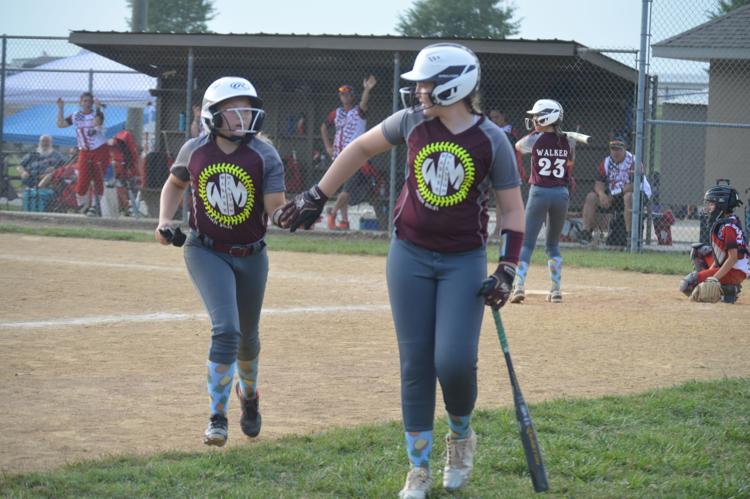 Gabby Hoke took the mound and was simply overpowering. She struck out eight batters in three innings pitched, with just one walk. Rebekah Gill came on in relief for one inning and retired the batters in order. The tandem were just the one walk away from an illustrious perfect game.
As dominant as Hoke and Gill were on the mound, the Mission bats were equally impressive.
Avery Sweeny put the team on the board in the top half of the first with an RBI single, though it'd be the lone run of the inning.
Kali Walker sparked a second inning outburst with a single, but then stole each base en route to scoring. Erin Harris followed that with an two-RBI bloop single down the right field line, and one at-bat later, Molly Hagerty slashed an RBI double to put Mission ahead 5-0.
Gill and Walker each knocked in runs in the third, and from then on, the rout was on.
Six girls recorded RBIs, led by Hagerty's 2-for-3, three RBI day. Harris and Mattie Armstrong each slashed in two runs, and Gill, Walker and Bella Andrews knocked in a run a piece.
Game two: 4-2 victory over Legacy 07
This one wasn't nearly as lopsided as their tournament debut — perhaps being it was a doubleheader — but Mission prevailed and finished day one of the tournament unscathed nonetheless.
Andrews and Hoke each pitched, with Andrews tossing two innings and fanning four batters, while Hoke faced just one batter — whom she struck out.
Mission had to come from behind for the victory, scoring three runs in the third and fourth innings to escape with the 4-2 victory. Sweeny, Gill and Evie Sellers each recorded RBIs in the victory.
Sitting firm at 2-0, they'll look to continue their strong tournament on Thursday against the Midwest Aftershock at 3:15 p.m. in Newburgh, Ind.
Wabash Mission 05
Game one: 9-5 loss to Thunder 05.
Mental mistakes proved incredibly costly for this group, with eight recorded errors in their 9-5 loss to the Thunder 05 at Deaconess Park in Evansville, Ind.
Just four of the team's nine allowed runs were earned. Additionally, they stranded six runners on base. Missed opportunities just seemed to haunt this group, but on such a stage, they're moments they'll learn from.
Rachel Gill and Shaina Farrar tossed a combined five innings in the loss, allowing a combined 11 hits and striking out one batter.
Their bats had no trouble however, led by Gill's 2-for-2 day with an RBI. Libby Horton and Rebekah Pittman each also recorded RBIs in the loss.
Game two: 7-2 loss to SI Aftershock.
After their struggles in their 2 p.m. performance, the mental errors were likely still fresh on their minds and the culprit for their 7-2 loss in their nightcap contest.
The Aftershock took a 1-0 lead after a few errors allowed run to score in the top half of the first, but Mission rallied back in the bottom half of the inning.
Farrar led off by reaching on an error, followed by a walk by Hannah Parr. With the Mission bats seemingly in business, Carli Merritt was hit by a pitch, loading the bases for Pittman. Pittman eventually walked, but Farrar swiped home on a throw down to first, and a wild pitch allowed Parr to score, putting Mission 05 ahead 2-1. The threat ended with runners on first and second after Gill popped into an inning-ending double play.
From then on Aftershock took control.
The mental errors continued for Mission, and the Aftershock bats were hitting some sharply lined balls. Following what could be characterized a disastrous first inning on the mound for (Aftershock) as well, they threw a no-hitter.
They end day one with an 0-2 record, looking to rebound at 5 p.m. at Evansville's Deaconess Park.