MOUNT CARMEL — For Cameron Tullar, returning to Wabash Valley College was a no-brainer.
Despite receiving some early round draft inquiries in the Major League Baseball Draft, Tullar, a left-handed pitcher, spurned the offers and returned to Wabash Valley College, citing his desire to make amends for their shortcomings in the 2019 season.
"We had a little grudge on our shoulder, try to prove to people that the 49-game win streak wasn't nothing," Tullar, who's committed to Mississippi State said. "We did it last year and we could do it again this year, just try to go back."
As a team, there certainly weren't many — a 49-game win streak, a 55-4 record. And for Tullar, he enjoyed a fantastic freshman campaign. He was a key cog in a historically great WVC rotation, dazzling with a 9-1 record, a lowly 2.02 ERA, while fanning 104 batters in just over 66 innings of work.
Still, their season ended in the Northern District Tournament Championship with a 10-5 loss to Iowa Western, who crushed the Warriors' dreams of a return trip to Grand Junction, Colo.
Despite losing a slew of great hitters and a number of arms, including Antoine Kelly Jr., a second-round selection in the 2019 MLB Draft, Tullar was one of many highly talented players to opt to return to WVC.
Outside of Tullar, CJ Weins, who was arguably the top closer in the country last season, utility fielder/hitter Kirk Liebert, infielder Freylin Minyety, infielder Savier Pinales and Mason Sykes highlighted the returners, and were accompanied by a number of newcomers sure to put the team over the top.
Whether it be center fielder Hylan Hall, who transferred in from the University of Miami, Wichita State transfer Jake Plastiak, RHP Austin Peterson, who transferred in from Purdue, or Adisyn Coffey, a Louisville commit.
From top to bottom, this group was about as immensely talented as WVC Head Baseball Coach Fournier could have hoped for.
"This is a special bunch," Fournier said. "We were really starting to get our guys going, we were really starting to develop as a team."
And special they were — it seemed as if they were destined for greatness. Tullar (5-0, 2.01 ERA, 44 Ks) was off to another sensational start to the season, sophomore Ole Arntson (.438 BA, 4 HR, 19 RBIs) was tearing the cover off the ball, Pinales (.492 BA, 14 2B, 14 RBIs), and many others were meeting the lofty expectations this group had.
As a team they had once again arisen to the top spot in the NJCAA Division I Baseball Poll, posting an early 17-2 mark.
What could unravel that impending greatness down? The answer? A plague, a time Americans will remember in infamy for quite some time.
Hour by hour developments, an initial push offered a glimmer of hopeFor months everyone in the United States had heard of this Coronavirus talk coming out of China. It felt as if something that was in the back of your mind, but batted away any legitimate concerns of heading into 2020.
"We knew it was coming up, we just wanted to play," Tullar said. "The team, we just really got together and just tried to make the most of all the moments, just try to make it memorable for the time being.
As February came around the corner and it was time for baseball to tee off, that persistent talk of COVID-19 remained, this time with the virus beginning to infect more globally, rather than just the epicenter of China.
Still, it's impact had hardily taken a devastating toll on the United States, but that all changed on Wednesday, March 11, when Rudy Gobert, of the NBA's Utah Jazz's positive test stalled the sporting world in its tracks.
As it turned out, Gobert's test would be the spurring of the postponement of the NBA's regular season slate, the cancellation of the NCAA Tournaments, and an immediate suspension of the NJCAA spring sports slate, as well as the NJCAA Basketball Tournaments.
Wabash Valley College Athletic Director Mike Carpenter expressed deep concern at the time for the potential severity of such an outbreak, but was also adamant in his stance against making a rash decision that couldn't be undone at a later date.
"That's what I had been fighting for with the spring sports, rather than cancelling them right now, let's pump the breaks," Carpenter said. "Let's wait a few weeks before we go cancelling seasons. Their health ultimately is number one, but we also want to make sure these kids have a place to go, but if they don't get a chance to play, they're stuck in a situation where they don't have a school to go to. It's a challenging situation that's continued to change hour by hour."
Carpenter, who presides as President of the Great Rivers Athletic Conference, had relayed his recommendation to their conference counterparts, but ultimately the choice was the NJCAA's to make.
They made that decision on Monday, March 16, opting to cancel the NJCAA Basketball Tournaments and the spring sports slate as the pandemic had begun to spiral out of control and countermeasures were starting to arise nationwide to combat the deadly virus.
For Fournier, he was in utter disbelief. He understood the severity of the virus, he knew the concerns were legitimate, but he was shell shocked how such a pandemic could force him to miss his first spring baseball season since he was a child.
"It's been close to 40 years since I haven't had a spring to play baseball, whether it be playing or coaching," Fournier stated. "It's total disbelief, you're kind of in denial. Just about every kind of emotion you can go through."
And for Tullar and his fellow sophomores, their quest at redemption had been taken away from them, in a catastrophic event that was out of their control.
Though they didn't know it at the time, they'd play their final game of the season on March 9, at 15-2 demolition of Columbia State Community College.
"I was in awe," Tullar recalled his emotions when he was told the season had been canceled. "I was just shocked that my sophomore year, my last year of JUCO at Wabash Valley was going to end like this. All of the sophomores, we all wanted go to the World Series, we wanted to go to Grand Junction and win it. We were starting to get that connection like we had last year, just trying to become like one big family basically and we all wanted to do what we could."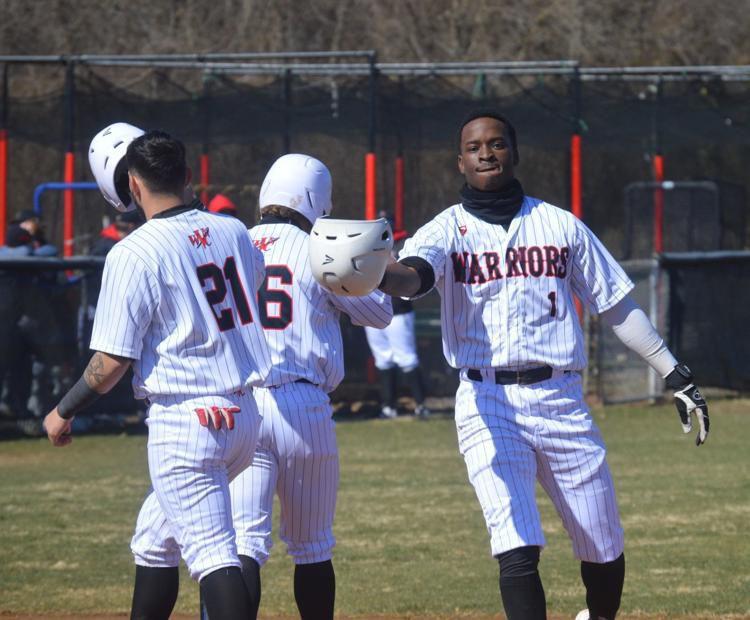 Could a silver lining be a serious road block?In recognition of what was an unprecedented event, the NJCAA stayed true to its student athletes by announcing it would be offering another year of eligibility to spring sports athletes, in amends for their lost 2020 season.
Tullar and WVC's other Division I signees likely won't be around for this step, as they're set to depart for their four-year schools this fall, or possibly even the draft. If they elect to spurn the draft, there's a distinct likelihood they'd remain as sophomores next year (all indications point to the NCAA making a similar decision).
It's truly a cordial olive branch extended, a nice gesture by the governing bodies who seem to be not worldly out of touch with their athletes, but that silver lining does cause some potentially major complications.
If a strong majority of JUCO sophomores, or NCAA Division I seniors elect to return, to take advantage of this waiver, what happens then?
You'll have an influx of players coming into the program, many of whom have been signed for quite some time. At the same time, you potentially might not lose the seniors who those players were intended to replace. It's a very delicate situation, and it's one where something's going to have to give.
"That's going to be a puzzle. . .," Fournier stated. "It's a trickle-down effect. It's going to come from the very top and it could start with Major League Baseball. If they don't have a draft, it's going to be the most chaotic situation that I could ever imagine. If they don't have that, then you move onto Division I baseball. Then you're in the same situation too where you have the same problem. Some of the kids going into Division I schools, they might have to let them go, then they trickle down to junior colleges,"
"Everybody's going to have to make some unfortunate decisions, it's not going to be easy, but at the same time I don't know what the NJCAA or NCAA or going to give us. It could be good if they give us more scholarships, then the questions will be answered a lot easier."
The NCAA's set to make their official announcement in regards to spring, as well as winter sports eligibility for athletes on March 30, a deadline Tullar will surely be eagerly eyeing.
But for some sophomores, the guys who aren't signed with the power five schools, Fournier sees this as a potentially major opportunity. Some potential suspects figure to include Arntson, potentially Minyety, Pinales, among others.
"They all have an opportunity to realistically come back, get drafted, get the grades up a little more, there's a lot of options in why they should come back," Fournier said. "I think we should be able to get them back. We've only had them a solid year and I don't think it's fair a four-year school gets them for three years and we get them for one. It's hard on everybody, it's not a perfect situation, but it comes down to you leave it up to the kids. If they want to come back, I'm open arms willing. If they want to move on, I'm the same way."
One final meeting and what's next?By now the group had already learned the NJCAA had made the brutal decision to cancel the spring sports slate. With a clubhouse full of disappointment, Fournier called his group together for one last meeting at the media room at the Spencer Sports Center.
The Warriors' skipper said the meeting was a really tough one, really emotional, as he said they hardly got to say their goodbyes.
The situation had evolved so rapidly to the point where Fournier had literally this one last meeting to convene, then send his players home, due to the serious health concerns around the country.
Their one resounding message at the meeting? Take care of what you can.
"[Take care of] school," Fournier recalled. "Taking care of your families, take care of you, make sure you understand how important it is to stay clear and educated with this virus and this terrible deal right now. We [said] we're going to be taking care of you guys, we're going to stay in contact a lot. The main thing is to finish, to finish the classes somehow, somewhere, some way. We're going to find a way stay in shape and beat this. We just tried to stay positive to the best we could. It wasn't an easy meeting at all. You're trying to say goodbye and that's it, they had to go, they had to get their stuff and then see you later."
From then, they all departed Mount Carmel and went their own ways — though many will eventually return to Mount Carmel once the health concerns clear and the fall semester is in session.
For some of the sophomores such as Tullar, that meeting will likely be their final moment with their brothers. Barring a major surprise, they won't be returning to Wabash Valley, but they'll have a tough decision to make come June — or potentially later in the year.
The MLB has yet to make any announcement if they have plans to postpone the 2020 MLB Draft, but as of now, it appears to be on schedule for its original June 10-12 dates.
When that Wednesday arrives and a phone rings, Tullar, like many others, is going to have a tough decision to make. Would he resist the lure of professional baseball for another year? Does he feel he's ready for pro ball? Tullar said for now, he's keeping his options open, citing the MLB's obviously his dream, but Mississippi State is his option one right now.
"My plan's to go to Mississippi State, but obviously I'd like to go to the draft, yes," Tullar said. "But with how everything's working out, I'd like to go to Mississippi State. If the draft comes around and I get picked, I'll see where it goes from there. I'm really into both for now."
The limited slate complicates things in that regard. Though scouts saw enough of Tullar's southpaw arsenal in 2019 to fall in love with his potential, he and many others could have helped their stock even further by dazzling in front of scouts this season. With a limited scouting window, this draft's going to be tough to read, especially for some of his teammates.
From Fournier's perspective however, this is what he's prepared his guys for. Fournier often stresses all of the factors his players need to consider prior to taking that leap. Are you mature enough? Can you handle that constant grind? Is the money there? There's truly a lot to consider, now more than ever.
"We educate them so much on that," Fournier spoke of mentoring his players in regards to the draft process. "Don't sign to just sign, to tell all of your friends that you were drafted, because that could be short lived. Passing on an opportunity to go to a very good four-year school is a major mistake. If you're not ready, minor league baseball is very unfriendly. If you're not going to produce, they're not going to be your friend, you're not going to have a developmental program for you as a student, as a person, things like that. You basically have to get things done or find something else to do to find money."
Furthermore, Tullar's experiencing a problem many of his fellow athletes across the nation are encountering — how do you stay in shape? He said that's been a tough part of all of this, with the social distancing and everything considered, he's been relegated to mostly doing in-home exercises to try to keep focused.
As he likely embarks on his journey to Starkville, Miss. Tullar said he's most going to miss the brotherhood, the camaraderie he's established with his unit. It's going to be tough to let go, but with the lessons he's acquired along the way, he's ready for the next chapter.
"I just can't thank the coaches enough for what they did," Tullar said. "Coach Fournier, what he's taught me in these two years, the blessing to have him as a head coach. He'll forever be one of my favorite coaches. He's taught me a lot through life and baseball, it wasn't just baseball, life too. He kind of groomed me as a person, I'm just so thankful for him. Thankful for the town, all of the support from the town that they give to the baseball team. It's always awesome to have the local people come out and watch your games and cheer us on. It's amazing to have people come watch and cheer us on, it's a great environment when people come out and watch. I'd like to thank the whole town for everything."
And while their season fell shy of their expectations, they can rest easy knowing it won't be their last time playing on the diamond — or even for many — their last time donning a Warrior uniform.