MOUNT CARMEL — As the clock ticked closer and closer to zeroes on Saturday, the Mount Carmel bench was laced in visible sorrow.
After such a joyous beginning to the night, with seniors Kassidy Drone and Alli Kell being honored prior to their final game, the realization had begun to sunk in that they'd end their final game at the Hilltop in defeat.
Drone and Kell each checked out with under a minute remaining in the ballgame with the lead out of reach and emotions high.
"We always want to make sure our seniors come out to the ovation they deserve," Mount Carmel Coach Tim Willis said. "I appreciate our fans giving that for them. These kids spend a lot of time, part of their family that they play with. It is emotional, it's kind of like leaving your family, it's never quite the same, you're always a Lady Ace, always an alumni."
The visible mix of reminiscing on their basketball playing days, the memories they've made with their teammates, coupled with the disappointment in the result flowed through Drone and Kell's face as they were greeted by a supporting Mount Carmel bench.
To console his seniors, Willis gathered the two together and pointed to the crowd.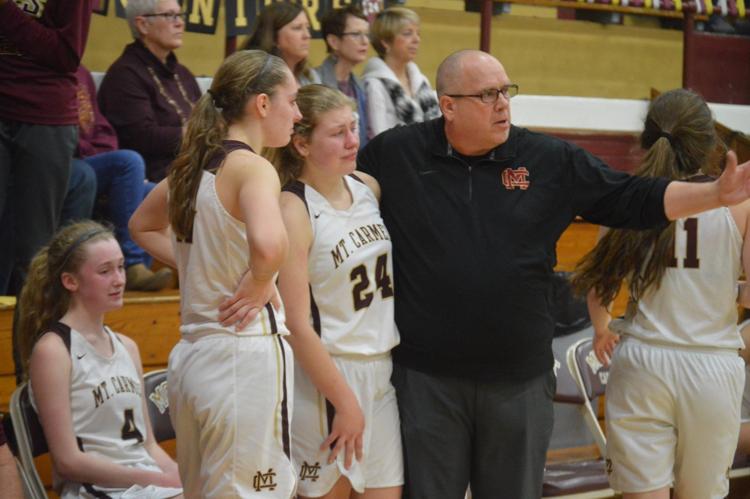 "I said it before the game and I wanted to say it again towards the end — just stand up, look at the crowd," Willis explained. "Understand they came here to show their appreciation for what you've done and realize how much sports means to this town, how much it means to them as players,"
"[I told them], think about when you were in first and second grade. [They've] probably played over 300 games in their career just in this sport, starting with YMCA and working your way through. The amount of energy they put in, they just needed to soak it in a little bit. That can be overwhelming to just soak it in and realize what it means to you."
The ladies succumbed to Eldorado 67-52, despite a fast start to the contest.
Once the pregame Senior Night festivities concluded, it appeared as if the Lady Aces (21-9) were extremely energized and ready to claim a victory in Drone and Kell's last hoorah.
Kell led the Lady Aces early, scoring a couple of low-post looks to lead the team with four early points. After a fast-paced first quarter, Mount Carmel led 14-10, but troubles were beginning to present themselves.
A slew of Lady Aces were in foul trouble, and by a slew I mean just about every rotation big. Junior Allie McPherson had two fouls, Kell had two fouls, freshman Rilee Riggs had two fouls, with all three experiencing the foul woes in just the first quarter.
In considerable foul trouble, you could tell the Lady Aces were visibly frustrated with the officiating. Their rhythm halted, the smiles turned into a lackadaisical, frustrated posture — and Eldorado took advantage.
The Lady Eagles went on a 13-0 run in the second quarter with the Lady Aces showcasing zero remanence of a flow. As the dust settled from the second quarter charge, Mount Carmel found themselves trailing 28-20.
Looking to rally back in the second half, the Lady Aces switched to a rarely used full-court 2-2-1 press look, with the ladies trying to trap at half court. In dire need of swipes, their hands were forced.
With the lead down to just four, 48-44, following an and-one by junior Maya Smith with 4:51 remaining, you could see the Lady Aces were back into a groove, with their body language significantly improved.
The Lady Eagles broke the press for an easy layup to go ahead six, but the Lady Aces sped back down the court looking to respond. Junior Rylie Webb caught the ball in the post and battled down low through a number of Lady Eagle's outstretched arms. Webb's first try, no good despite some contact and no call, her second look after an offensive board, same scenario same result, but after another offensive board and even further contest, Webb laid it in off glass plus the foul — at least it appeared to be the case.
Oddly enough the officials deemed the foul (after multiple instances of Webb being fouled on the shot) to be on the floor, negating a potential and-one opportunity in an absolute dagger to Mount Carmel's hopes.
Willis was less than content with the call, debating it to no avail.
With the opportunity negated, Eldorado regained momentum and saw their lead swell late to a rather deceiving total.
"There were stretches we played really well, but the second quarter got us in trouble again," Willis said. "We sped up a little too much and didn't quite slow down, just never got back into it. We battled pretty hard and I'm going to be interested to see what I liked and didn't like from a lot of different areas. There's times I thought we played really well and we really battled better in the second half on the boards than we had."
Webb led the team with 11 points, followed by McPherson with 10 points. Drone finished with nine points and Kell ended with six in their final games at the Hilltop.
As for Drone and Kell's finale, Willis said he couldn't have been any prouder, but certainly isn't eager to replace two girls who've dedicated so much time to this program and have meant so much to the underclassmen.
"These two girls have meant a lot not just to the program, but to me with how they've carried themselves," Willis spoke of his seniors. "They're a great example of how their parents have raised them, so they've obviously done an outstanding job with these two. So first and foremost the job their parents have done, and they're going to be a representative of our school and community. When you can say that about kids and they're good basketball players on top of that, that's good, that really is."
Fortunately they can mend this memory with a successful postseason.
They'll make their Regional debut Monday night in Newton against Robinson at 7:30 p.m. They've faced Robinson twice already this season, defeating the Maroons by an average margin of 29 points. They should win, but you never want to underestimate anyone come postseason ball.
If they win, they'll face Pana on Tuesday in Newton at 7:30 p.m., with a chance to earn a rematch with Teutopolis on Thursday.
"As I told the kids, it's 0-0 now. Now of course every team, every coach in the world says that. You're 0-0, doesn't matter now. Everybody's 0-0 and everybody has a chance. We've played Robinson a couple times this year, they've gotten enough film on us so I'm sure they'll make some adjustments. If we play like this, like we have the last couple games we'll be ok. Then we'll have a pretty spirited game against Pana, which I'm really curious to see live.
Scoring summary:
E 10 18 13 26 — 67
MC 14 6 14 18 — 52
Lady Ace scorers: Webb 5 0 11, McPherson 4 1 10, Smith 2 3 9, Drone 3 2 9, Wright 3 0 7, Kell 2 2 6.
Next up: Monday, Feb. 10 vs. Robinson in Newton at 7:30 p.m. — potentially Tuesday, Feb. 11 vs. Pana in Newton at 7:30 p.m.