BOONVILLE — Both sides, the Wabash Mission 09 program and Extreme softball had been looking forward to Saturday's matchup between the two teams for quite some time.
Each time the two teams face it turns into an all out of war. And Saturday's matchup certainly lived up to the hype.
Following a two-RBI single by Leah Lewis to give Mission a 4-2 lead, Mission was strongly positioned heading into the final two innings of action.
But the Extreme refused to go away.
They trimmed the deficit down to 4-3 and had a chance to tie the game once again in the top of the fourth. Mission pitcher Quincy Keepes had other ideas however. Keepes collected herself and struck out the final batter, stranding a runner at third.
Mission went scoreless in the bottom half of the fourth, but needed just three outs to clinch a victory.
Though considerable pressure was on, Keepes looked up to the task.
She forced the first batter to ground out to third, then recorded the second out on another ground ball. With a runner on second, Keepes had the Extreme down to their last out — and a 2-2 count at that. Keepes missed the low corner of the plate on what would have been the final strike of the game, and the Extreme runner stole third. Subsequently, Keepes missed her spot on a changeup, which got past catcher Riley Hershey and tied things up.
Just as she did in the fourth inning however, Keepes rebounded and silenced another threat, this time with a groundout.
With the top of their batting order due up, Mission had a chance to make amends with a walk-off victory.
Hershey was the first batter due up and started things off with a liner up the middle for a single. Representing the winning run, Hershey swiped second base, and subsequently advanced to third on an errant throw.
Kinley Harris looked to knock Hershey in, and slapped a fly ball to left field, but Hershey elected to play it safe with one out and not risk advancing as the winning run on a sacrifice fly.
Lyla Keepes was the next to get a crack at it — and battled before a wild pitch gave Hershey the green light she needed to dash toward the plate. Hershey frantically raced in, slid and came in just ahead of the throw — safe!
Hershey was mobbed by her teammates and Coach Josh Keepes, who embraced her following the game-winning run.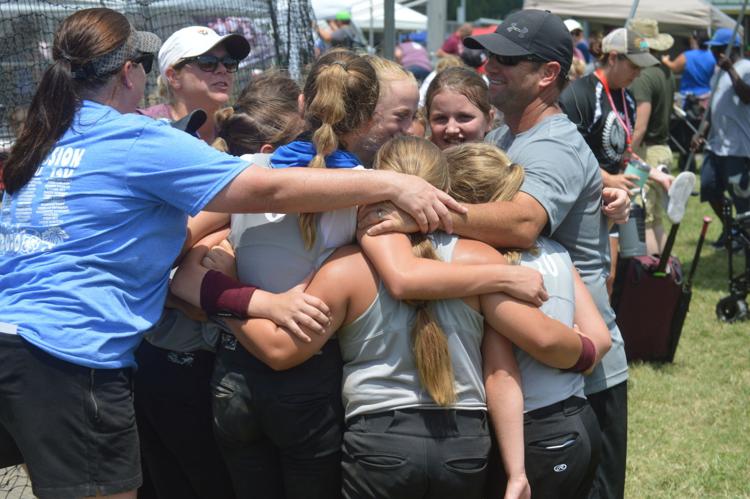 Quincy Keepes picked up the victory, tossing a complete game with four strikeouts and showing tremendous resolve in getting out of a couple crucial jams.
Lewis led Mission with her 1-for-2 day with three RBIs, followed by Quincy Keepes' 1-for-2 line with an RBI double, which came in the first inning.
With the dramatic victory, Mission 09 remained unbeaten in USSSA Great Lakes Tournament play at 6-0 and scored a satisfying victory over their rivals. They also are ranked No. 23 in the nation in USSSA 10U C-Class.
Update: The team wrapped up their tournament with a third-place finished in the USSSA Great Lakes National Tournament, ending 6-2.
Mission pitching: WP — Quincy Keepes 5 IP, 4 R, 2 ER, 4 K.
Notable Mission bats: Lewis 1-for-2, 3 RBIs. Hershey 1-for-3, R. Harris 1-for-3, 2 R. Lyla Keepes 1-for-2, 2 R.
Next game: Sunday, July 19 at 11 a.m. in Boonville.