MOUNT CARMEL — From day one back in August, Keya Patton and her fellow Lady Warriors had one goal: run it back for another shot at the NJCAA Division I Women's Basketball National Championship.
"I think the returners from last year's team are competitive kids that felt after last year that they had unfinished business, that loss hurt them last year," Head Coach Lacey Shalenko spoke of Patton and the returning Lady Warriors' aspirations. "We talked about that early on and I think the other kids that were new this year were hungry for a new experience.
Sure, as any team would, they suffered a couple bumps and bruises along the way. A 23-point loss to No. 3 seeded Northwest Florida and an 18-point loss to Vincennes in December stood as their lone blemishes. But as every great team does, the Lady Warriors did some soul searching and found room for improvement.
They began playing their best basketball of the season, defeating opponents by an average margin of 40.8 points while compiling a 23-game win streak along the way.
As the wins continued to rack up, Shalenko's Lady Warriors were finally where they wanted to be — the Midwest District Championship game. They'd face hosting Rend Lake with a berth to the National Tournament on the line.
The hosts gave WVC all they could handle for the first 20 minutes, but Wabash Valley's persistent pressure and athleticism finally won out.
They outscored Rend Lake by 32 in the second half, and it was all smiles on the Wabash Valley bench.
Patton, fresh off a 29-point game, was hobbled with a groin injury, but she certainly didn't let it dampen her mood.
She and her teammates were ear to ear with excitement, celebrating on the sideline and embracing Shalenko and Assistant Coach DeAngela Mathis.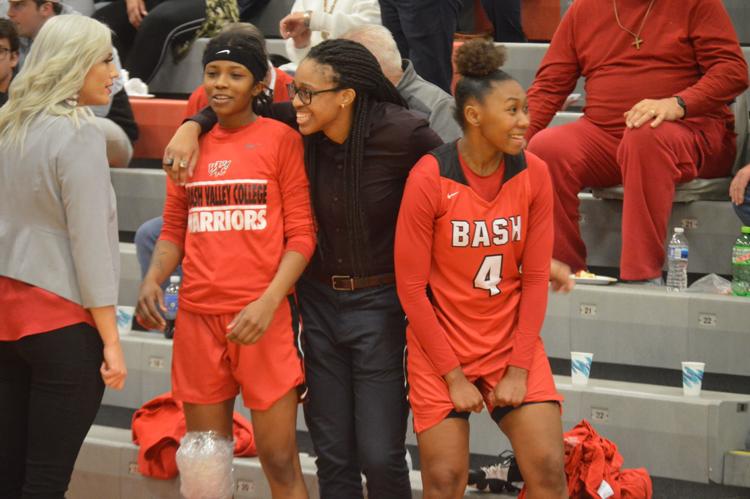 As far as they knew, this was the precursor, the next step that would pole vault them to their opportunity in Lubbock, their revenge tour for the title they so coveted. But as fate would have it, that very moment was their last big moment together as a team.
A glimmer of hope, suddenly silenced
Fresh off their hard fought 109-67 victory over Rend Lake in the Midwest District Championship to punch their ticket to Lubbock, Shalenko's group was in the midst of preparation for what they thought would be an opening National Tourney matchup with No. 24 seed Monroe College.
Although COVID-19 was considered an afterthought nationwide at the time, especially in Mount Carmel, it was plaguing New York, where Monroe was located.
Shalenko was proceeding as normal, preparing for Monroe, but also scouting ahead for what could likely be their second round matchup, Jones College.
While Shalenko and her group were preparing, they were scheduled to have a practice on Thursday — and that's when everything started to spiral.
Monroe, based out of New Rochelle, N.Y., was forced to withdraw from the Tournament, pairing WVC with Wallace State Community College-Hanceville.
Shalenko was content with that decision, as her team had previously faced and defeated Wallace State 87-76 back on Nov. 15, but events continued to spiral.
Just hours later however, the NJCAA announced the postponement of the NJCAA Men's and Women's Basketball Tournaments to April 20, in concurrence with other leagues, such as the NCAA and the NBA. This sudden shift to postponement and cancellations was sparked by the proactive steps the NBA took, once Utah Jazz star Rudy Gobert had tested positive for Coronavirus on March 11. The NBA had then announced the immediate suspension of its season in what was an unprecedented move, sending shock waves across the sporting world.
The announcement for a postponement came just 12 hours before the Lady Warriors were set to depart for Lubbock.
Even with the postponement, Shalenko, like many others, was hopeful the virus could be contained and they could stay the course in preparation. Wabash Valley College Athletic Director Mike Carpenter directed Shalenko to stay the course, saying to proceed as normal for the rescheduled dated.
"I think (on Thursday) the day before we were supposed to leave when they had (postponed it)," Shalenko said. "When they canceled it we were supposed to leave on Friday ... I took that day to see what we wanted to do. I think it was the next day that classes were suspended for a week, so I ended up giving my kids this week off, I told them go ahead and go home for a week, then when you get back we'll get back to basketball and school."
"We held onto that hope. I thought in the back of my mind that this thing could get canceled because the NCAA had already canceled, but part of me thought, maybe everybody's overreacting, it'll clear up in a couple weeks and we'll get to go play."
But as has been the case with what could be best characterized as a fluent situation, that altered once again just four days later.
On Monday the NJCAA opted to veer away from the potential risk, opting to cancel the tournaments. For Shalenko, this would have been her first experience coaching in Lubbock. She was crushed, not just for herself, but for her players, who some were seeking to exact revenge in Lubbock, and others were awaiting the opportunity to showcase their talents to scouts on hand.
"It still just hits you differently when the announcement's made and the little piece of hope that you had is thrown out the window," Shalenko spoke of her emotions once the announcement was made. "I was really sad and disappointed for our entire team because I truly felt like we were playing our best basketball in March ... I just thought everybody was finally gelling, fitting into their roles and just playing really well together ... I think the best way I could put it is really heartbreaking and disappointing."
It's one thing for a season to end due to losing to a team who's simply better than you on a given night. As a competitor, it's tough, but you can eventually swallow that, you didn't play to the level you're capable of. But for your season to conclude in such a unique matter that's out of your control, that's about as tough of a situation as you can ask for.
Disappointment, what could have been and where do you go from here?
Just days before the announcement, Patton had been named as an NJCAA Division I Women's Basketball First Team All-American, a nod of appreciation handed own for Patton's excellence in her sophomore campaign.
Patton's had a historically superb career for the Lady Warriors, netting a school-record 46 points in a Nov. 20 103-64 demolition of Olney Central, and averaging 20.8 points, 6.8 rebounds and 6.4 assists per game.
For Patton, she said she was excited to exhibit how deserving she was of such an honor, and solidify her status as arguably the top player in JUCO.
"When I found out I was an All-American, I was ready. My swagger was a little bit different, I had to bring a different element like, now I'm not the only one thinking or believing that I was of that caliber. I was looking forward to putting on a show, that's what I told all the coaches I'm talking to, hopefully I can put on a show for you. Maybe at the next level ... We kind of had our fingers crossed, hoping everything would pan out in our favor but it didn't, so you just have to go with it. They canceled it for a good reason, so it's not like they just canceled it to cancel."
Patton said her deepest gripe with the situation comes with her teammates being robbed of the opportunity to showcase their talents to four-year schools.
"I felt for my teammates, not me personally," Patton added. "I got to go last year so I got to experience it. This year my recruitment has went through the roof, so I literally think it was an opportunity for our coaches and my teammates to further their experience and get to a better school, a better opportunity. I don't think they reached their potential, school wise. We had some schools in throughout the year, but not as many as usual. Hopefully they're still able to find a home, but the National Tournament would have definitely helped everyone."
Unfortunately Patton's concerned are greatly justified. Not only has the one in a million pandemic caused for her teammates not to get the level of exposure they would have otherwise received, it also complicates the recruiting aspect of herself, and her teammates in finding a new home.
New NCAA restrictions to limit the spread of the virus has stalled four-year coaches from coming and seeing recruits, or bringing them on campus, so they're forced to effectively make a decision based on a relationship with a coaching staff rather than seeing a campus and finding an incredible fit. To help further recruitments for some of her athletes, Shalenko's tirelessly been working the phones, prospecting with four-year coaches to find her players homes, as well as posting highlights of her players on Twitter and Hudl for those interested coaches to view.
Some of the ladies include sophomore forward Monique Pruitt (13.3 ppg, 5.7 rpg), sophomore guard Bre Beck (11.3 ppg, 5.8 apg), sophomore sharpshooter Krisen Hunt (9.4 ppg), sophomore guard Jordan Aikens (9.3 ppg, 3.6 rpg, 1.2 blocks), sophomore guard Jacinta Gibson (5.2 ppg, 3.4 rpg), and sophomore Haley Moore (4.7 ppg, 4.1 rpg).
"Krisen and Mo were two of the kids who had sort of been overlooked or underappreciated as the year (ensued) just because of Keya and some of our other kids who get a ton of interest. For those kids specifically, I thought Krisen was going to go down there and come back with five Division I offers because she was playing so well and shooting so well — same with Mo. It would really, really help with their recruiting. So now I've been on the phone with coaches constantly. Before my kids left we talked about who their top five would be, if there's any other schools they've been talking with or want us to reach out to. After we put those highlights on Twitter I've had several coaches call me in response to just those tweets, and we have our film on Hudl so I've been sending that out to coaches,"
"Everybody's kind of navigating through this for the first time too. I've just been chatting with them about how they're approaching visits, recruiting, trying to see where they're at so we can make sure all of our kids have a place to go so they can be successful after leaving us."
Patton, who has a host of power five Division I schools vying for her services, wasn't really as affected, much like sophomore KK White, who had previously committed to Wright State University.
As for Patton's decision, she says she's going to enjoy the process and joked she's going to wait until the very last moment, citing she'll know it's the right fit when her heart tells her. She added she has to meet with her family about it, specifically her mom, who she says is going to play a major role in her decision, though she opted not to disclose a firm list of schools at this time.
Though she'll be leaving Wabash with somewhat of a bitter taste considering all that's transpired nationally, she'll take a host of memories with her, along with a number of Wabash records.
"Wabash is definitely going to be some place special in my heart," Patton spoke of WVC. "We all joke about how we can't wait to get out, but after you've been somewhere for so long it becomes a part of you. I'll definitely miss Wabash, I'll probably come back — I won't say for sure — but I know there will be other great players to come. Hopefully someone can break those records and it'll be something years down the line that, oh, I did this here,"
"If you go to (Wabash), you're going to get coached good, it's a good education, it's a good fit, come to Wabash. It's a nice town, not too much going on, you can ball. We were the best in the conference. You're coming out of high school, don't know where you're going to go, you can come here a year or two maybe, be on TV."
It's not going to be easy for Shalenko to replace Patton, as well as the other sophomores, but she'll tread into the unprecedented waters and navigate through what's been a troubling time for coaches across the country. She'll return the Great Rivers Athletic Conference Freshman of the Year and an All-Conference and All-Region selection, Jazmyn Turner (15.3 ppg, 7.9 rpg), as well as Soffia Reickers (2.1 ppg), but she'll be looking to fill nearly 12 scholarships.
"Obviously super excited to have Jaz back. If you wanted to build your team around a kid, that's a pretty good one. Being Conference Freshman of the Year, being All-Conference and All-Region as a freshman, averaging like 16 and eight. She hasn't even touched her potential yet, really high ceiling for her ... We're actively recruiting an entire team right now, that's what we're spending all of our time on. We've got our hands on some really good players, obviously working on commitments and trying to get kids signed, but Wabash is a place kids want to come to because they know they're going to win here, can get to Nationals, have a chance to compete for a championship and have a chance to be recruited and leave here. Obviously we're looking forward to having another successful year. The tradition is great, anything less than 30 wins and a National Tournament appearance is less than what people expect and what we expect."
We can all hope that next season won't fall victim to such a pandemic, as this one ended prematurely and crushed the aspirations of this group. Hopefully, within a few weeks or a months time, this all can be resolved and life can go back to the way it is. But for these sophomores, and this group, it altered the course of history forever.