MOUNT CARMEL — Mount Carmel senior right-hander Kaleb Applebey had longed to play for Wabash Valley College Head Coach Rob Fournier for quite some time.
Ever since Fournier's group advanced to the 2017 NJCAA Division I World Series in Grand Junction, Applebey has aspired to one day be a part of the program.
As he progressed through high school, another option started to emerge for the 6-foot-7 Applebey — football.
For the Aces, Applebey has been a two-year starter as quarterback of the team. As quarterback he's shown flashes of his big-arm potential, leading the Aces to a 12-8 record, but broke out in 2019 by leading Mount Carmel to a 9-2 record and an IHSA Class 3A playoff appearance in his junior season. A host of schools had vied for Applebey's services on the gridiron, including Illinois State, Southern Illinois University-Carbondale, University of Central Florida, and others.
While Applebey began to entertain the possibility of playing collegiate football, a career in baseball had been his priority since day one.
"At one point I wanted to play football in college just because I dreamed about playing a college sport," Applebey stated. "At the time I figured football was going to be my biggest option because I had a little bit of arm trouble with pitching. So it was, 'Oh, I'm getting all of these football looks, this is awesome. I can't wait to see what else comes and commit to football,"
"Then I started taking care of my arm and working at my arm, then it started jumping up. I've always loved baseball more than any sport, I've always played that the most, played on travel teams and all of that. I figured football would be [my chance], but now it's baseball and I couldn't be any happier. I've always dreamed about playing in the MLB."
On the diamond, Applebey began to make his presence known this spring and summer, thanks to an intense workout regimen to strengthen his arm, as well as refining his diet to optimize his body. He accredited his high school coaches, as well as the coaches of Indiana Nitro Gold for helping guide him toward such a leap. Since then, his velocity has soared, clocking out in the mid-90s on his fastball, while developing his complementary pitches and generating considerable buzz among Division I schools as well as his dream school — Wabash Valley College.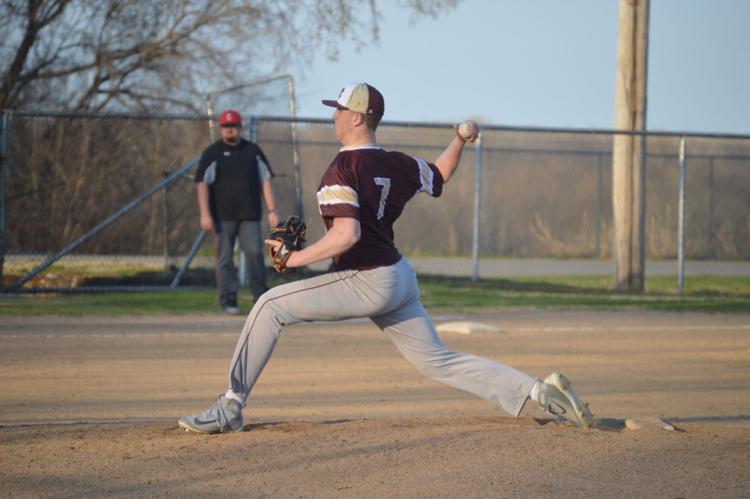 While schools such as Division I baseball powerhouse Texas Tech began to express interest, Fournier and the Warriors also began to scout Applebey while he played with Indiana Nitro Gold and conveyed their interest in his commitment as well. According to a source, they were blown away by Applebey's progression in the last year. That connection developed rapidly — as the hometown school, Wabash Valley College, already had a leg up on schools such as Texas Tech. The Texas Tech offer really blew away the Applebey family, and according to Kaleb, was quite the conversation point at dinner over the last couple months.
"That was a real tough decision," Applebey spoke of turning down the Red Raiders. "We shed a few tears between me and my family for a couple weeks. Every time at dinner we'd talk about it. Mom and dad didn't like the idea — they loved the idea that they were all for me and stuff, but 17 hours away, it'd be tough to come watch me play. They really want to watch me play throughout the college level too."
But in the end, that dream to become a Warrior won out.
Applebey verbally committed to the Warriors last week, a difficult decision, but one he seemed comfortable with following a visit to Wabash Valley College a week prior.
"WVC had always been my number one [priority], ever since I was a freshman. That had always been my goal, ever since they made it to the JUCO World Series. I want to be a part of the next World Series out there. That was a big thing."
"Whenever Coach Montgomery and Coach Fournier took me on a visit there a couple weeks ago, a week and a half ago, it felt like another home," Applebey said. "They were great to me, always stayed in touch with me. They have great facilities, a great program. It just felt like a home away from home — even though I'll still be home. It's a great program to be a part of."
Applebey projects to be a key arm in Wabash Valley's rotation for the future, if he opts to honor his commitment. He's also showcased his talent in front of a number of Major League Baseball scouts, with one showcase on Aug. 1 featuring a scout from every organization.
Fournier has a strong track record of sending his players onto Division I schools as well as the MLB Draft. As a hometown kid, you couldn't script a better story if he continues his progression, thrives at Wabash Valley and fulfills his dream.
His ceiling is a salivating prospect for both scouts, the coaches at Wabash Valley, as well as Mount Carmel head baseball coach Shea Smith — who'll have another year of Applebey in 2021.