MOUNT CARMEL — There officially won't be Aces football this fall.
On Wednesday the IHSA announced they'd be moving all fall sports to the spring, opting for the "sandwich method," which condenses all three sporting seasons from late-November on.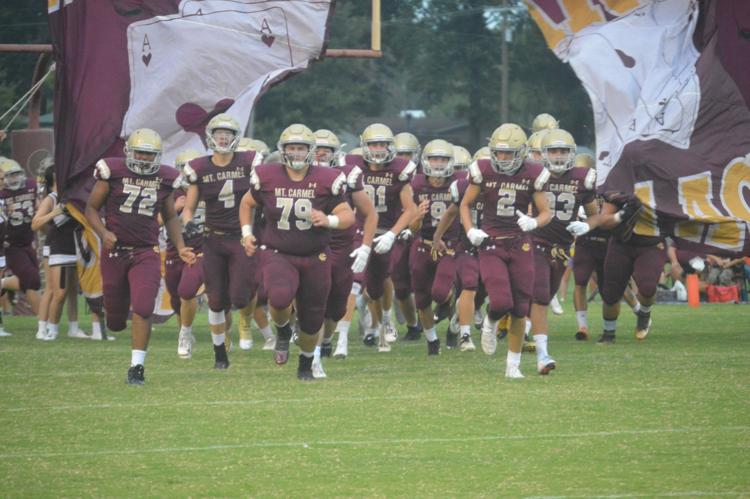 It seemed more and more unlikely Illinois would be able to hold some form of a fall sports season with each moment.
Though bordering states such as Kentucky and Indiana outlined returns for August and September, it became complex in Illinois.
While fans, student-athletes, parents, school administration and media alike awaited the IHSA's verdict pertaining to fall sports, Illinois Gov. J.B. Pritzker stole the headlines with a devastating announcement.
Just hours prior to the IHSA's announcement, Pritzker made his own, one detailing restrictions to youth and high school sports. Gov. Pritzker's restrictions defined sports by low, medium and high risk, with levels which would permit play. Following his announcement, it became clear a condensed, postponed season or cancellation was on the horizon.
Illinois, like many other states has experienced a slight uptick in COVID-19 cases recently, spurring leaders such as Gov. Pritzker to tighten the reins on restrictions — such as sports. Troubling stories such as the virus' rapid spread through the MLB's Miami Marlins' locker room were also cited by Pritzker.
Some reports had suggested that the IHSA had been blindsided by today's news, which IHSA Executive Director Craig Anderson quickly dismissed in today's media conference following the news. He explained the organization had been in communication with Illinois Deputy Gov. Jesse Ruiz for the last week and a half, who had warned Anderson of the likelihood of today's news. When Anderson found out — amid the IHSA's meeting to determine the fate of fall sports — he wasn't shocked, but still said the communication line has "been difficult," particularly with no collaboration between he and Pritzker, or the Illinois Department of Public Health.
So what does this mean, and how condensed might these seasons be?
Well, Athletic Directors across the state are likely left scrambling following the announcement. Anderson said schools will likely be forced to schedule locally, saying conference opponents will be the best option. But for a school such as Mount Carmel — who remains independent follows the disbanding of the Big Eight Conference — that could prove troublesome.
"We would anticipate allowing our schools to schedule those contests," Anderson stated. "We understand this'll create some difficulty for independent schools. We'll work with schools who are finding difficulty in scheduling opponents."
For football, Anderson speculated schedules to likely comprise of six to seven regular season games. Other sports, such as basketball, will be limited to two games per week, with tournament play prohibited.
Additionally, postseason play remains up in the air. With current regulations, tournaments and championships will not be permitted, and can only if Pritzker's new order allows for "Level 4 Competition." Anderson wondered aloud about this possibility, and cast some doubt onto postseason play, especially football's.
"This year we don't know what the playoff outlook would be," Anderson explained. "It may be schools who didn't want to play each other in the past might be encouraged to do so now... I think the Regional and Conference decision making in schedules makes the most sense... It's going to be difficult to crown a State Champion in football to be honest."
Sports such as golf, cross country and swimming were permitted to continue with a fall season, as Pritzker and Illinois Department of Public Health officials deemed the sports low-risk for infection. With the go ahead, they'll proceed as normal, beginning Aug. 10 and running through Oct. 17. They have some limitations, notably calling for 30-foot gaps between groups.
As for the higher risk sports, Anderson cautioned against counting these timelines as definitive. Basketball in particular, Anderson cited as a sport which could likely start a few weeks later than the current plan accounts for. Presently, basketball, and other winter sports, are set to begin Nov. 16 and run through Feb. 13. Football and other historical fall sports begin shortly thereafter, with a Feb. 15 start date, running through May 1. The typical spring sports such as baseball and softball round out the year, beginning May 3 and running through June 26.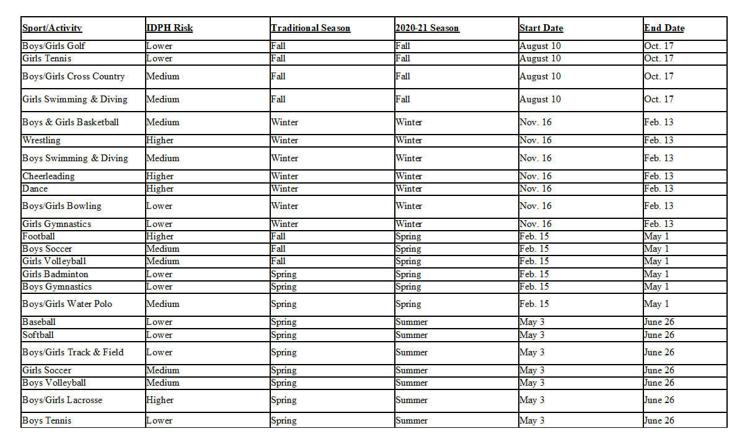 "I think we have some limited wiggle room," Anderson said. "We indicated starting winter sports on that Nov. 16 time frame. That's really hopeful thinking on our part and likely closer to maybe early-to-mid-December. We're going to adjust and create the wiggle room for these seasons."
Even if there's a hiccup, Illinois, now with a tentative plan, is likely positioned better to host a sporting season than any other state. Plans by other high school athletic associations such as the IHSAA or the KHSAA have opted to proceed with their seasons, despite a number of schools having experienced notable COVID-19 outbreaks.
Each time a school experiences such an outbreak, they've been shutdown for a two-to-three week time period. Realistically, could you proceed with such a season when schools are likely to experience a case, and then are forced to shutdown for two weeks (forfeiting two games)? Probably not. This won't be an isolated debacle, it's going to be nationwide. Illinois' timeline matches up with the reports of a vaccine clearance for emergency use late this year — which is no coincidence.
"I think those are good plans and I hope and pray they can have those plans play out, but we've realized in our state that those are risky sports," Anderson expressed concern pertaining to other states' return to play guidelines. "They're sports that could end up with higher positivity rates and then there can be shutdowns and things like that."
While this news may be disappointing to some as other states, who've given schools clearance to go ahead, this might be genius when viewed in retrospect. And from Mount Carmel's perspective, be thankful they're no longer in the Big Eight. If they had remained, this would have likely been a death sentence to the school's season.