MOUNT CARMEL — Though the rivalry lost some if its luster with the folding of the Big Eight Conference, Tuesday night affirmed that the rivalry between Mount Carmel and Princeton is still alive and well.
Both teams entered the matchup shorthanded, with Mount Carmel missing junior Kaleb Applebey, one of Mount Carmel's leading scorers, whereas Princeton sorely missed juniors Jurrien Ballard and Rhett Thompson, as well as sophomore Colton Smith.
But it was Mount Carmel who was able to take advantage, as Mount Carmel sophomore Luke Laws scored a career-high 18 points to help guide the Aces to a 56-46 victory over Princeton on Tuesday night at the Hilltop in Mount Carmel.
With Thompson sidelined, Princeton (8-5) failed to match Laws' physicality in
See Aces/Page B2
the post and he took advantage early and often. Laws scored 10 points in the first half for the Aces (12-6), who led by as much as nine before taking a 27-22 lead to the break. Junior Beau Stipp made an incredibly difficult fading away baseline runner at the buzzer to end put his Aces up five.
Princeton's main advance in the first half came on the offensive glass, where they out crashed the Aces early on.
Despite that, the Tigers really struggled to score early. They were culprits of several early traveling violations and just seemingly lacked a flow offensively with a cast of inexperienced players. Senior Collin Holzmeyer was the top Tiger in the first half, having scored nine of Princeton's 22 points in the half.
Mount Carmel would extend its lead to 11 late in the third, but Princeton junior Dominic Hardiman would respond with a crucial and-one in the waning seconds to cut the lead down to 40-32, offering the Tigers a glimmer of hope heading into the fourth.
Following Hardiman's bucket the Tigers suddenly had momentum and quickly reduced Mount Carmel's lead down to just four on several occasions.
Each time the lead would dip down to four however, the Aces would calmly respond with a bucket. First Laws would score on a smooth post move to halt the charging Tigers, then Stipp would ring off six consecutive points to give the Aces the edge late.
Mount Carmel's student section engaged in some friendly trash talk in the waning seconds, reminding Princeton fans that the Aces have swept the Tigers thus far in basketball and football.
Stipp would score 25 points in the contest, a number he's typically floated around night in and night out this season. Princeton Coach LaMar Brown lamented his team's inability to contain Stipp and keep him out of the lane, a troubling proposition for many teams of late.
"Beau, again we were making it tough on him, but even then so, so many layups," Brown said. "There's a run in the fourth quarter there where I know he gets four layups in different variety. You've got to make somebody make a tougher shot. The kid's scored in the high, mid-20s the past three games, you've got to make him take more difficult shot."
But from Mount Carmel's perspective, you know what you're going to get from Stipp at floor general. He's a dynamite slasher and scorer. The resurgence of Laws on the other hand with Applebey sidelined, that's a developing storyline that could change the dynamic of this team with his physical presence.
His coach, Tyler Buss was thoroughly impressed by his poise and performance on Tuesday night.
"We knew it was just a matter of time," Buss said. "Yes, it's good for his development that Kaleb's not in there, but he's getting healthier, I think that's the biggest key. This is the Luke Laws we saw all summer. The fact that we're going to get Kaleb back in the next week or so and we can start playing those two together some and pose some problems for defenses. Just really proud of Luke. He played with such poise inside, ball fakes, kick outs, he played by far his best game I've seen him play as a varsity basketball player."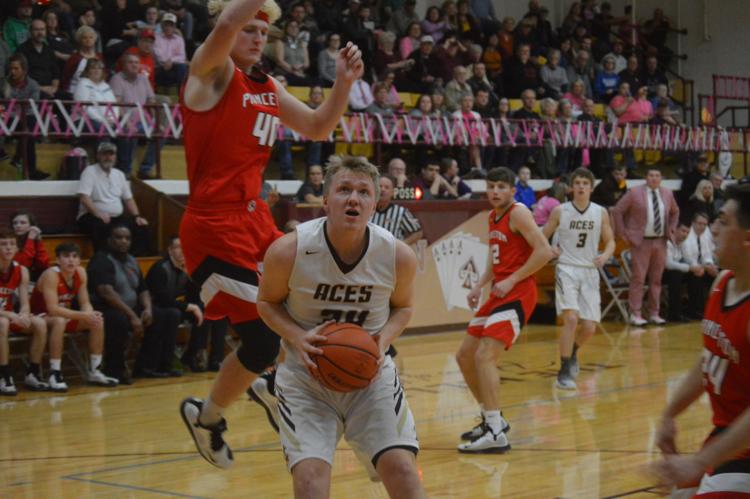 With the victory Mount Carmel bounces back from a tough two-game losing streak in Effingham to right the ship heading down the stretch, improving to 12-6 on the year. Meanwhile the Tigers fall to 8-5, though are 2-0 in Big Eight play.
The Aces will get just about a week off prior to returning to action for the 41st annual Carmi-White County Invitational Tournament, which will pit the Aces in a grueling five-game, six day stretch.
They'll kick things off on Monday against a region foe, Edwards County, at 6 p.m. in the Carmi gym.
Scoring summary:
MC — 15 12 13 16 — 56
P — 5 17 10 14 — 46
Aces scorers: Stipp 9 6 25, Laws 6 6 18, Kennard 2 2 8, Kline 2 0 5.
Tiger scorers: Hardiman 3 5 11, 4 1 11, Huey 4 0 9, Cochran 3 2 9, Hurt 2 0 4, Morris 1 0 2.
Next up: at CWC Invitational, Monday, Jan. 20 at 6 p.m. vs. Edwards County.