Even if just for the briefest of moments at Merchant's Park in Mount Carmel, it felt as if there was a return to normalcy.
A strong turnout of both residents and businesses were on hand to partake in the festivity as the city officially dedicated the stage at Merchant's Park to its new namesake on Friday night, Harris Insurance Pavilion.
To assist in the festivities, former Mount Carmel Mayor Bill Hudson was on hand, along with current Mayor Joe Judge, as well as a number of other officials who assisted in the realization and construction of the project.
Hudson in particular helped spark the project as mayor, and expressed his gratitude to those on hand to witness the dedication.
The two mayors, along with Mike Harris of Harris Insurance Group Limited, Wayne Walden with Wabash County Merchants Committee, and Kyle Peach a Board Member of the Market Street Committee and Board of Education member, officially cut the ceremonial ribbon for the dedication in between two bands who performed for the crowd.
Entertainers included Order Up, who played 60s and 70s Classic Pop and Country from 7-8 p.m., preceding the ceremony. Following the ceremony Cage Willis performed from 8-10 p.m., playing Blues and Rock 'N' Roll for spectators on the lawn, and those adjacent to the stage in their cars.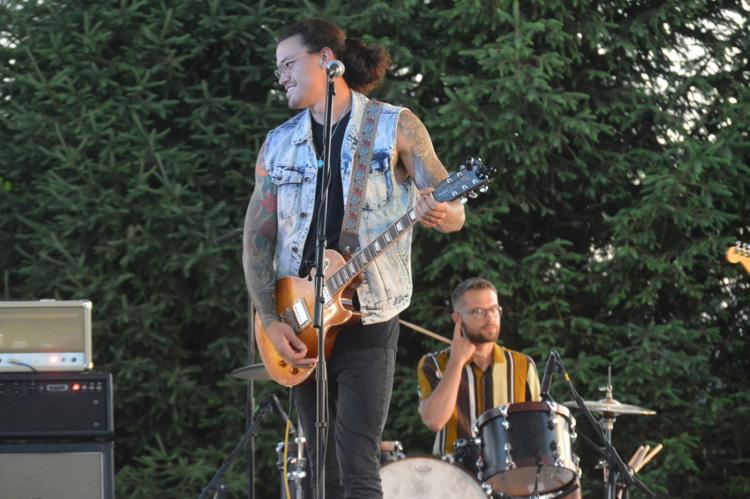 Along with enjoying the music throughout the night, those in attendance had some tasty options to enjoy. Refreshing snacks and dinner options included sno cones from the Sno Shack, barbecue from Beer Bones BBQ, and Kolb's Culinary.
With restrictions steadily easing as Illinois Governor J.B. Pritzker's "Restore Illinois" plan fades, and the COVID-19 cases continue to dwindle, perhaps the Harris Insurance Pavilion will host further celebrations in 2020.